Stump Grinding Services:
All our stump grinders fit through 36″ gates.
Quote includes grinding stumps and chasing roots within 2′ of stump.
We call in utility locates (free of charge) to ensure no utilities are around the stump before grinding.
All wood debris remnants are mainly small wood chips and soil; these are placed back into the hole for soil health and microbial growth.
Please note that if you would like to re-plant a tree in that same area, the grind will need to be a minimum of 28" deep. Be sure to let Gary know what your plans are when you get your free stump grinding, tree removal and/or tree pruning estimate.
Call for a free Estimate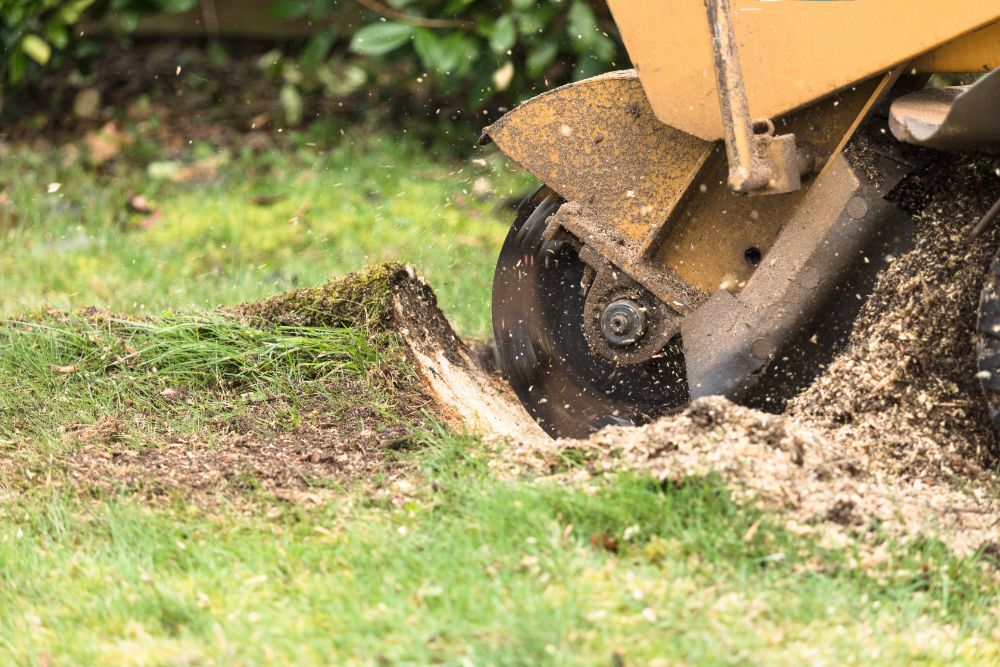 Complete Stump Grinding:
To successfully remove a tree from your property, we use the best equipment and trained climbers. Our stump removal services finish the removal of a tree for those who desire it. Contact us to get a free tree assessment and estimate.
2 River Tree Service provides several commercial stump grinder options to ensure 100% stump removal.
Vermeer

SC70TX Stump Cutter: Track-mounted. Direct drive. Remote control. 70hp AutoSweep for maximum performance.

Vermeer SC30TX Stump Grinder: SmartSweep, minimal ground disturbance, easily reaches stumps in tough areas.
With professional stump grinders and 25+ years of experience, you can count on complete tree stump grinding and removal.
Commercial Stump Grinders vs Renting:
Not all stump grinders are alike. Most of the stump grinders available for rent have dull and/or broken teeth, low horsepower and can not grind deep enough to fully remove the root system. Not to mention the cost to rent a stump grinder can exceed the cost we charge to come out and professionally grind stumps to completion. Before you go rent a stump grinder, call us for a free estimate.
2 River Tree & Hardscapes:
Full-service Tree Care Company In Meridian Idaho
ISA Certified Since 1998
Tree Pruning: Structural, Directional and Safety Pruning Per ISA Standards
Call us for free tree assessments and estimates.